Tips to build a successful eCommerce career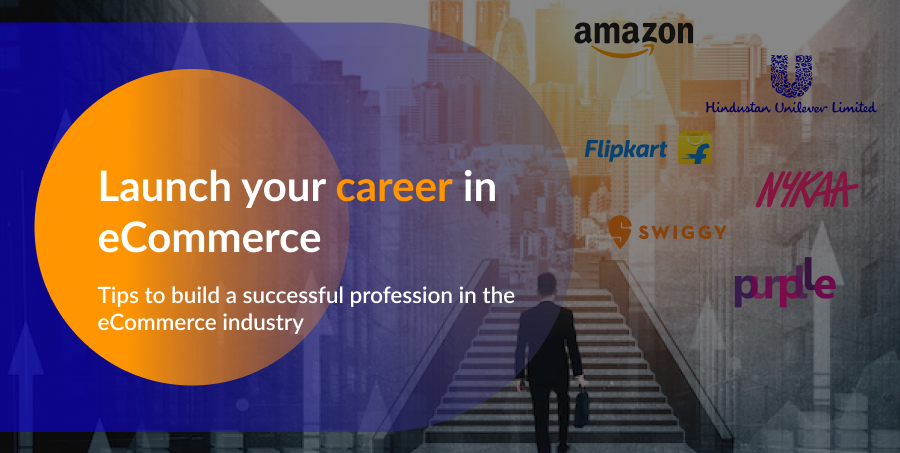 It would be an understatement to say that the Indian eCommerce industry is on the rise. In fact, India's eCommerce market is expected to outpace that of other growing economies by the end of this decade. According to a report by the Indian Brand Equity Foundation, eCommerce in the country is expected to reach $300 billion by the year 2030, which would be a 6X growth in a decade.
Likewise, the job market in eCommerce is also booming (hiring intent in eCommerce is the highest among all industries, according to a TeamLease study). The industry has a plethora of jobs in functions like digital marketing, account management, data analysis, performance marketing, business operations, and more.
But the question is, how can you land an eCommerce job or make significant contributions to this ever-growing market? What does it take to master the intricacies of the eCommerce business? In this article, we will discuss why eCommerce is important and how you can build a future career in this field.
What is eCommerce?
eCommerce or electronic commerce, as the name suggests, simply means carrying out commercial activities over the internet. This includes online purchases and sales of products and services.
Impact of COVID on eCommerce in India
During the onset of the pandemic, many retail businesses were forced to scale back their offline operations. This not only accelerated the upward trajectory of existing eCommerce platforms in India but also catalyzed innovation for many new online brands and businesses. Offline store owners were also forced to digitize their businesses and eCommerce players like Amazon and Flipkart have been their partners on that journey.
More than 2,00,000 Kirana stores have partnered with Flipkart for Big Billion Day sales in 2022. In fact, many small and medium businesses, artisans, and women entrepreneurs have signed up for the Amazon festival sales 2022 and sold around 1 million unique products within the first 36 hours of the sale.
Why a career in eCommerce?
1.      eCommerce is growing
Despite the seemingly omnipresent nature of eCommerce platforms and the furore around the recent growth, India's eCommerce contribution to total retail is still 7% compared to 50% for markets like China. Therefore, there is still significant scope for growth. With more and more shoppers online, increased competition can be expected in the future along with a higher demand for a digitally skilled workforce.
2.      Width of high-growth opportunities available
The industry presents a variety of future job opportunities to suit your variety of needs and preferences. There are career avenues in digital marketing, operations, supply chain, and analytics. All of these careers have high scope for growth in the future. Additionally, these future jobs have a distinct attraction thanks to the integration of technology. Working in this sector can allow you to develop future skills and work on the latest technology tools and data systems to manage business operations.
3.      Learning in-demand skills
An eCommerce professional gets to work hands-on on in-demand skills like Amazon ads, Flipkart ads, digital marketing, etc. These future skills are valued by a width of industries and the rigor in the eCommerce job can help one significantly accelerate their future career. Moreover, exposure to data-driven decision-making, a high-growth environment, and a constantly evolving technology landscape can help one become a very well-rounded professional, not just in the field of eCommerce.
Important tips to get started in eCommerce
1. Develop Technical Skills
Business in online platforms is a lot more complex than in the traditional marketplace. As a result, you will require a comprehensive understanding of technical skills, including but not limited to data analytics, pay-per-click advertising, digital marketing, search engine optimization, etc. Getting proficient with the necessary technical expertise will help in building a solid launchpad in this field.
2. Learn from industry experts
Like many others, the best way to excel in this domain too is by learning from experts. Most college curricula don't cover the future skills required and hence mentorship from industry experts is needed. There are a plethora of online courses available, but one should select an eCommerce course that enables mentorship from industry professionals, which could be the catalyst for professional development. Enrolling in an online eCommerce course, hosted by experienced individuals, will help strengthen fundamentals, while at the same time allowing for practical exposure. Additionally, you get to build a body of work to add to your profile which could be a strong signal to any potential companies when applying for jobs.
3. Keep up to date with the latest trends
Being a fast-paced industry, eCommerce requires constant updating of knowledge. The trends are changing every day and it is critical to keep updated and stay relevant in this industry while connected with your audiences.
4. Build connections with industry professionals
Having connections with experts in their field will not only assist you in your learning but will also help you grow throughout your professional journey. A known individual is more likely to refer you for a better opportunity, and thus, building a relationship with professionals will definitely shape your eCommerce career in the right direction.
Ending Note
Starting the journey of building your eCommerce career can be daunting at first but extremely rewarding. Having the right approach and guidance from industry mentors can lead to a successful career launch into an eCommerce career.
If the idea of an eCommerce career excites you, schedule a free 1-1 counseling with Digiaccel to explore how YOU can start.