Why you should pursue a career in eCommerce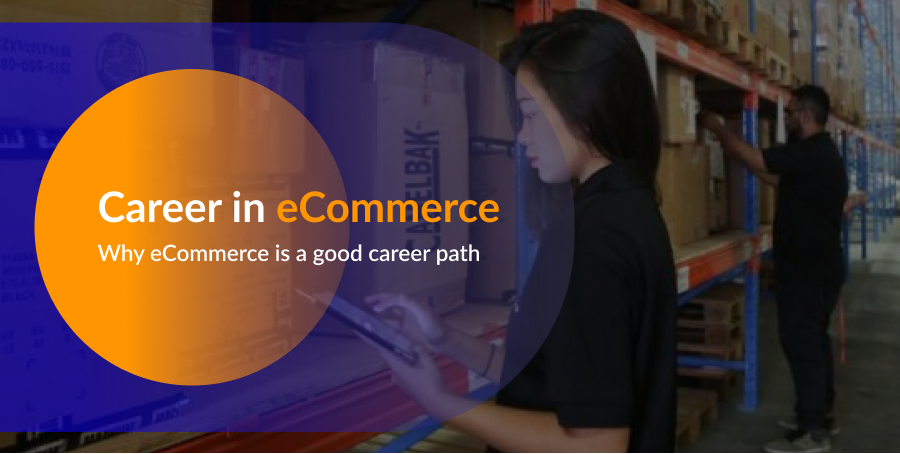 India is one of the fastest-growing eCommerce markets in the world. A study by Bain reported that it will continue to grow at a CAGR of 30% for the next 5 years. Increasing internet penetration and the third-highest online shopper pool in the world are key drivers for the growth of the sector. More and more people are turning to online shopping because of its convenience, more product choices, and deep discounts. This has also been fuelled by a significant investment over the last decade by global giants (Amazon, Walmart) and venture capitalists (Sequoia Capital, Qualcomm Ventures) alike.
With retailers and digital-first consumer brands growing at breakneck speed, the job market in eCommerce has presented many exciting opportunities for skilled candidates. These job opportunities are in domains like digital marketing, eCommerce operations, content and creative, analytics, performance marketing, and more.
An eCommerce job is worth consideration for you as you seek professional growth too. Here, we list reasons why pursuing a career in eCommerce could be the right decision for you.
Why eCommerce is a good career path?
1. Long-term growth
The eCommerce market in India is valued at $50 billion. However, the channel still accounts for only 7% of India's total retail. Compared to a market like China (50% contribution to total retail), it's evident that India's eCommerce industry is still in its early stage with a long runway for growth. The industry is likely to see sustained growth in the coming years on the back of increased penetration across smaller cities. For context, the total eCommerce users in India are still only about 20 crores, presenting a large headroom for increase.
Working in a high-growth industry is ideal for young working professionals looking for a high-growth career spanning many years. eCommerce is one of the top industries giving young professionals that opportunity.
2. High demand for eCommerce professionals
The success of eCommerce businesses post the COVID outbreak has resulted in a surge in job openings (hiring intent in the eCommerce industry is higher than any other according to a report by TeamLease). As the industry continues to grow, there is a large need for skilled candidates who can manage eCommerce operations and drive business growth. The dearth of skilled candidates compared to the opportunities leads to a demand-supply mismatch and gives better bargaining power to candidates. This allows for more opportunities as well as better chances to get higher pay.
3. Develop in-demand future skills
The eCommerce industry gives a lot of opportunities to learn future skills that are highly valued in today's digital economy. Getting hands-on experience with Amazon Ads, digital marketing, UX design, Data Analytics, etc helps one develop skill sets that are valued across the industry. A career in eCommerce could be your catalyst to becoming a well-rounded professional for years and decades to come.
Become an eCommerce specialist in 20 weeks with digiaccel learning's eCommerce specialist track.
4. Opportunity to work in top companies in India
More than 100 companies are hiring for eCommerce jobs in their organization. This presents an opportunity to work for leading companies in India. You can work for D2C brands like mamaearth, boAt, or internet companies like Myntra and Amazon who have already leveraged eCommerce to scale their business. In fact, major corporations like HUL, Dabur, and Reliance have also turned to eCommerce to target online shoppers; meaning more opportunities in their eCommerce division.
In conclusion
A career in eCommerce in India can be both challenging and rewarding, providing opportunities for professional growth in a rapidly growing industry. Whether you are just starting your career or looking to make a change, the eCommerce industry in India is ideal for your professional development.
To know if you are the right fit for a high-growth eCommerce job, sign up for free 1-1 counseling.