How to Prepare for a Digital Marketing Interview: A Comprehensive Guide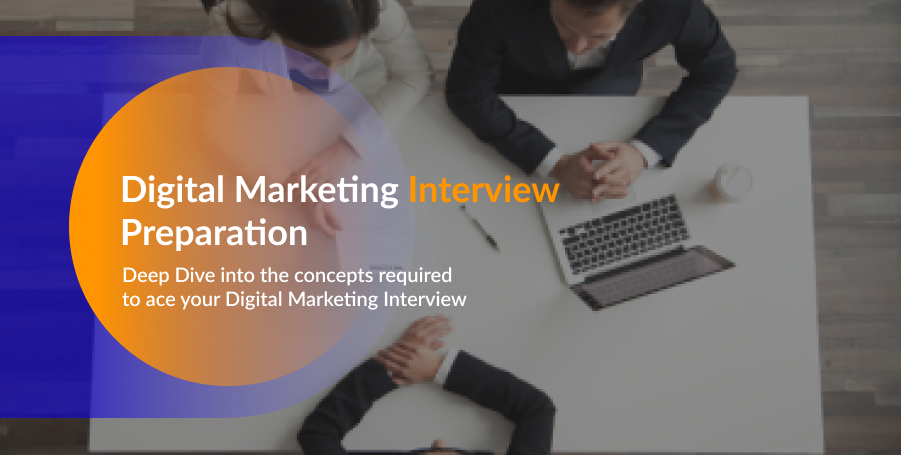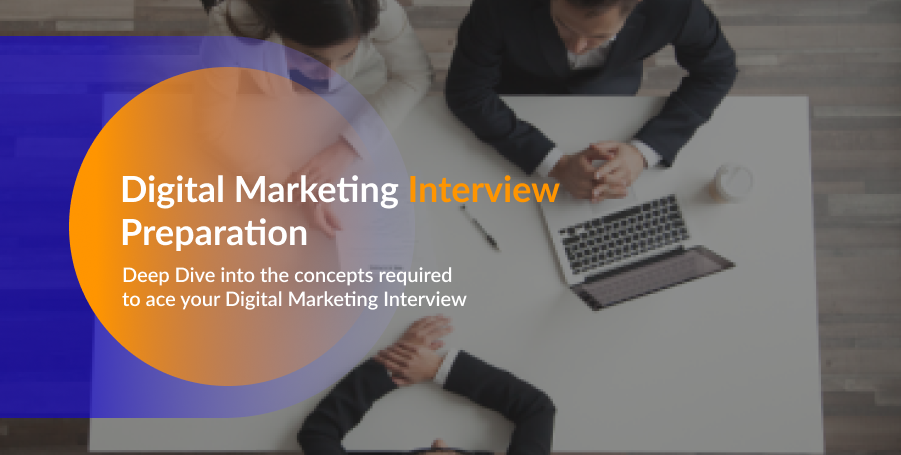 Digital marketing has become one of the most sought-after careers in recent years, and for good reason. This ever-evolving field offers a plethora of opportunities for growth, creativity, and innovation, as well as attractive salaries and the chance to work in a variety of industries, like FMCG, technology and eCommerce companies. As businesses across the globe continue to recognize the importance of a strong online presence, the demand for skilled digital marketing professionals will increase in the future.
The reason for this boom is that industries, businesses, and consumers have changed drastically over the last two decades. With millennials and Gen-Z making up most of the workforce, spending power is shifting towards generations that have been digital natives since an early age. While earlier generations might have witnessed a shift from TV being a privilege to an essential, the younger generations have had access to these modern technologies from the get-go.
The shift in consumer behaviour can be most prominently witnessed in the steep decline in the traditional media like newspaper, radio, and a slight decline in TV viewership as well. Even today, IPL viewership witnessed on JioCinema is far superior to witnessed on Star Sports.
India itself is witnessing a massive shift to digital with government initiatives like Digital India. But a major chunk of the digital-averse population itself was forced to the digital world because of the COVID 19 pandemic. People shifted to e-commerce channels from their local Kiranas, shifted to UPI from cash, from newspapers to e-papers. With the consumers shifting their attention online, brands also shifted to digital and online as their primary channel for marketing and sales.
Going digital is no longer an option but a necessity for brands and professionals alike. But if you feel like you do not have the relevant knowledge or feel that you need a refresher for a new job that you are applying for in digital marketing, do not worry, we have you covered.
In this blog, we will guide you through the process of preparing for a digital marketing interview, covering general checks, specific preparation techniques, and frequently asked questions and answers.
Why Choose a Career in Digital Marketing
High demand for digital marketing professionals: With the rise of e-commerce and the increasing importance of an online presence for businesses, the need for skilled digital marketers is growing exponentially. This translates to a wealth of job opportunities and a high demand for expertise in the field.
Lucrative salaries: Digital marketing professionals can expect competitive salaries that often grow along with their experience and skill set. According to Glassdoor, the average base pay for a digital marketer for entry level jobs in India ranges from INR 5-6 Lakhs p.a. for established brands, with many positions offering additional bonuses and benefits.
Creative and diverse work: Digital marketing offers a wide range of roles and responsibilities, allowing professionals to tap into their creativity and work on exciting projects in various industries. From content creation and social media management to SEO (Search Engine Optimization) and PPC (Pay Per Click) campaigns, there is always something new and interesting to work on in digital marketing.
Constant learning and growth: The digital marketing landscape is always evolving, which means there is always something new to learn and new challenges to overcome. This makes the field exciting and fulfilling for those who are passionate about learning and self-improvement. Plus, as you gain more experience and develop new skills, you will have the opportunity to advance your career and take on new responsibilities.
General Checks to Keep in Mind
Research the company: Before any interview, it is essential to understand the company's values, mission, and the services or products it offers. Familiarize yourself with their digital marketing strategies and any recent campaigns they have executed. This will demonstrate your genuine interest in the company and help you tailor your answers to their specific needs.
Update your LinkedIn profile: As a digital marketing professional, your LinkedIn profile is often the first impression you will make on potential employers. Ensure that your profile is up to date, with a professional photo, a compelling headline, and a well-written summary. Showcase your skills and experience in the digital marketing field, and do not forget to include any relevant certifications or courses you have completed.
Prepare a portfolio: Showcase your digital marketing expertise by creating a portfolio of your best work. This can include examples of content you have created, social media campaigns you have managed, or any other digital marketing projects you have been involved in. Be prepared to discuss your role in each project and the results achieved. A well-organized and visually appealing portfolio can make a significant impact on your interviewer. If you don't have experience in a digital marketing career, look out for education programs that can help you build a portfolio through real-world applications.
Familiarize yourself with current industry trends: Stay updated on the latest digital marketing trends and best practices. Subscribe to industry blogs, join relevant LinkedIn groups, and follow thought leaders on social media. This will not only help you in your interview but also make you a more knowledgeable and valuable candidate.
Most Frequently asked questions and how to answer them:
How do you define digital marketing?
Answer: Digital marketing is the promotion of products, services, or brands through various digital channels, including search engines, social media, email, websites, and mobile apps. It encompasses a variety of strategies and techniques designed to reach, engage, and convert a target audience online. The goal is to create a seamless user experience across the entire consumer funnel, from driving awareness to getting the users to purchase.
Can you explain the difference between SEO and SEM?
Answer: SEO (Search Engine Optimization) involves optimizing a website's content and structure to improve its visibility in organic search results. It aims to increase the quantity and quality of traffic to a website organically from search engines like Google. With most users now conducting research online before making a purchase, it becomes essential for brands to ensure that they land on the first page of the search engine result pages (SERPs). And then the next level efforts require to get the page ranked amongst the top 5-10 results as consumer behavior dictates that most users would conclude their research journey in those results. Techniques for a great SEO strategy include keyword research, on-page optimization, and building high-quality backlinks.
SEM (Search Engine Marketing), on the other hand, refers to paid advertising efforts to increase a website's visibility on search engine results pages. This includes tactics like pay-per-click (PPC) advertising and display advertising. For SEM, a digital marketer would require tools to run and track their paid ad campaigns like Google AdWords, SEMRush, AHrefs, etc. Both SEO and SEM are essential components of a comprehensive digital marketing strategy.
How would you design a successful social media marketing campaign?
Answer: A successful social media marketing campaign starts with setting clear goals and objectives, such as increasing brand awareness, communicating brand value or offering, driving website traffic, or generating leads. Next, it is crucial to identify the target audience and choose the appropriate social media platforms to reach them. Broadly, Instagram is ideal for reaching out to younger demographics of 18-34, Facebook is ideal for older demographics, and LinkedIn is ideal for working professionals. Create engaging content that aligns with the brand's voice, resonates with the audience, and develop a content calendar to ensure consistent posting.
Utilizing various content formats, such as images, videos, and articles, to keep the audience engaged and appeal to different preferences. It is also crucial to understand the algorithm of the platform as Instagram and Facebook organically pushes Reels, YouTube pushes Shorts, and LinkedIn gives higher reach to individual's page rather than a brand page.
Engaging with the audience by responding to comments, messages, and mentions, and encouraging user-generated content is a solid strategy for creating traction and a loyal audience base. Monitoring and analyzing the campaign's performance using analytics tools, adjusting the strategy as needed to achieve the desired results.
How do you measure the success of a digital marketing campaign?
Answer: Measuring the success of a digital marketing campaign involves tracking key performance indicators (KPIs) and analyzing the data to determine the campaign's effectiveness. Some common KPIs include website traffic, conversion rate, bounce rate, click-through rate (CTR), cost per acquisition (CPA), return on investment (ROI), and engagement metrics such as likes, shares, and comments on social media. It is also advisable to track the user funnel and keep a check on user drop-off. Assessing the stage where the user is dropping off will help understand the weak points in the campaign. Another way for a digital marketer to ensure success is A/B testing where one aspect of the campaign is changed to measure the performance and then adjusting the campaign accordingly.
Choose KPIs that align with the campaign's goals and objectives, and use analytics tools like Google Analytics, Facebook Insights, or Hootsuite to gather data. Regularly review the results, compare them to the initial goals, and adjust the strategy as needed to optimize performance.
What are some important trends in digital marketing today?
Answer: Some important trends in digital marketing today include:
Personalization: Delivering customized content and experiences based on user behavior, preferences, and demographics. This is particularly effective with email marketing where brands can customize the promotional email based on the purchase history.
Video marketing: Using video content to engage and educate audiences on various platforms, such as YouTube, Facebook, and Instagram.
Voice search optimization: Adapting content and SEO strategies to accommodate the increasing use of voice-activated search tools like Google Assistant and Amazon Alexa.
Influencer marketing: Partnering with influencers to increase brand awareness, credibility, and reach among their followers.
Artificial intelligence and automation: Leveraging AI-powered tools to optimize campaigns, analyze data, and automate repetitive tasks, such as email marketing and social media scheduling.
Regional Languages: According to estimates, only 20% of the digital audience of India is comfortable with English as their language of communication. These users primarily reside in the tier 1 cities or metros. Regional Language is becoming a key to capitalize the untapped market of Digital Indians residing in tier 2 or lower cities.
Friendly Advice: While Interviews seem like a daunting task, lack of confidence would only hurt your chances. It is always better to not view interviews as interviews but to view it as a discussion, a conversation between two people working in the same industry. There is no shame in admitting that you do not know something rather than giving a wrong answer. Come as you are and get selected as that ensures there are no mismatches in expectations and sets you up for a pleasant experience.
Remember, there might be many rejections, but you only need one interview to convert.
Conclusion
Preparing for a digital marketing interview involves researching the company, updating your online presence, showcasing your work in a portfolio, and staying current on industry trends. Familiarize yourself with the most commonly asked questions and practice your answers, ensuring that you can demonstrate your knowledge and experience in the field. By following these tips and putting in the necessary effort, you will be well on your way to landing your dream digital marketing job. Good luck!