Top eCommerce Jobs at Amazon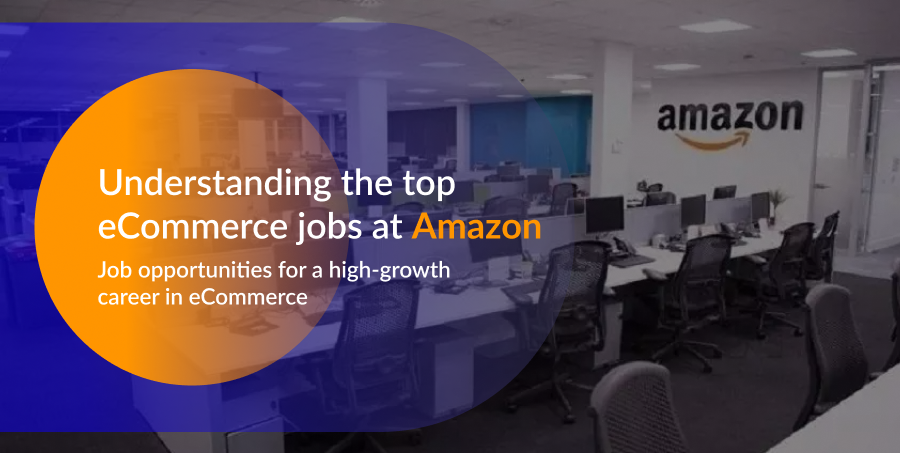 In recent years, online shopping has revolutionized the retail industry in India. It is expected that the Indian eCommerce market will reach $170 billion by 2025 (Bain & Co. Report). This has led to an increase in eCommerce job opportunities.
There are openings for in-demand eCommerce jobs across companies including Amazon, one of India's leading eCommerce platforms. Working at Amazon India can be a great career move for candidates looking for a high-growth career in the eCommerce industry. Fortunately for candidates, Amazon is actively recruiting skilled candidates for some of the hottest eCommerce jobs in India. Let's understand these job profiles better.
eCommerce jobs that can kickstart your Amazon Career
Amazon is a juggernaut across eCommerce, tech, and content and in this article, we will cover Amazon jobs specific to the eCommerce function.
1. Supply chain executive
Amazon is an online marketplace and it ships nearly 1.6 million packages every day (globally). They are able to meet these demands efficiently and reliably because of their solid supply chain management. A supply chain executive sits at the heart of this operation, managing inventory, orders, logistics and distribution channels.
The role requires an individual who can manage fulfillment and transportation operations as well as manage stakeholder relationships with vendors, logistics and merchant partners.
Skills Required: eCommerce operations, Negotiation, Analytics
2. Account Management Associate
An Account Manager at Amazon oversees the business growth of a group of listed sellers or brands on the platform. They use platform data to provide relevant insights into their business and help them grow by capitalizing on key opportunities. Commercial negotiations with brands and sellers is also a part of the job for which the ideal candidate needs to have good negotiation skills and stakeholder management ability.
Because the role is responsible for driving business growth, strong analytical ability is required to spot issues and opportunities.
Skills Required: eCommerce operations, eCommerce P&L, Negotiation, eCommerce Marketing, Business Analytics
3. Catalog Associate
A catalog associate is the one who manages product listings on the eCommerce platform. This role involves ensuring the hygiene of product listings to make sure that all new products are listed and discontinued products are not. In addition, the catalog associate is responsible for ensuring the product details of all listed products are accurately maintained. This role therefore also requires coordinating with vendors and manufacturers. The key quality required for the catalog associate is high rigor and quality standard as mistakes in product listings can be very costly for the business.
Skills Required: Quality standard, Written communication, eCommerce Content
4. Content Associate
If you are a creative person looking to use your skills to drive business, Amazon could be the place for you. Amazon employs Content Associates to work on both written and visual content with brands to drive more orders. This content is deployed on Amazon's own assets including the app and social media handles, as well as on some product pages. The intent of this content is to drive a better order conversion rate by pushing the user through content. The role requires written English skills with a keen eye for detail as well as user-backward thinking to churn effective content.
Skills Required: eCommerce Marketing, Written communication, eCommerce Content, eCommerce UI design
5. Business Analyst
The role of a business analyst at Amazon is to monitor data and provide key insights basis that. They must be able to handle large data sets and translate those into actionable insights. Their output helps the company in identifying key opportunities for business and make informed decisions. The role requires expertise in MS Excel and SQL. Additionally, a background in a technical field like engineering, mathematics, or statistics is preferred for this job post.
Skills Required: eCommerce Operations, Business Analytics, Data-Driven Decision Making
Amazon is a multinational corporation with far more job opportunities than we can list. There are more positions available at Amazon in software, customer support, web development, and so on. The above description will help you understand the responsibilities of eCommerce jobs and assess if you are suitable for the position. Whether you are an experienced eCommerce professional or just starting out in your career, there are opportunities to learn and grow at Amazon India.
💡
Join
digiclub
. A community where we bring industry experts to help you prepare for job interviews at leading eCommerce companies