eCommerce in the next 5 years: Trends that will define the future of eCommerce in India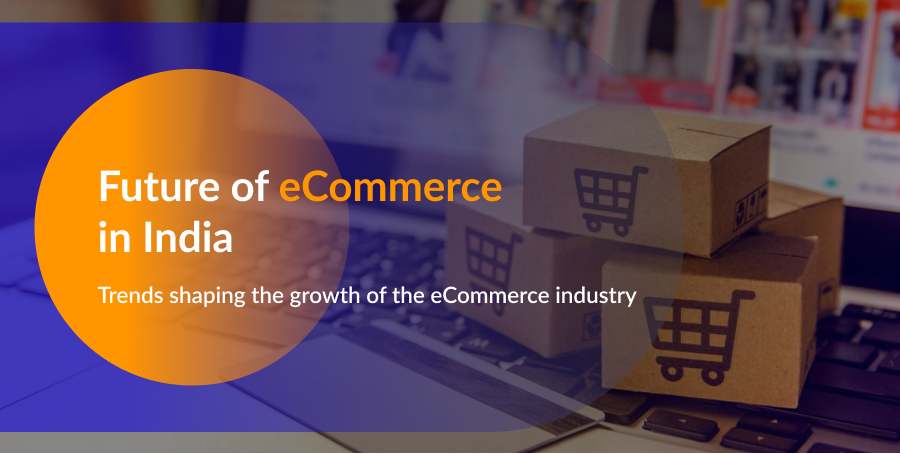 Before we jump into what the future would look like in the next 5 years, first let's have a glance at the current eCommerce ecosystem in India.
The state of eCommerce in India
No one could have imagined a decade ago that Indian consumers would shop digitally for their daily needs. Much to everyone's surprise, we have come a long way since then. The eCommerce industry, which was reported at $24 billion in 2017, is now slated to reach $50 billion by the end of 2022.
The emergence of many eCommerce start-ups has enabled businesses to meet the shopping needs of consumers. Companies like Swiggy, Zepto, or Blinkit ensure quick delivery of necessities, while Nykaa, Myntra, and even Flipkart have provided customers with a wide range of collections at their fingertips.
Even legacy brands are gaining traction by adopting digital initiatives due to the developments in this industry. Reliance Digital reported a 2.5 times increase in online orders, with digital channels including Ajio, Trends, and JioMarts accounting for 19% of its core retailing revenues. Likewise, Hindustan Unilever Ltd.'s digital sales contributed to nearly 15% of its total sales as a result of its digital efforts through D2C channels.
Strong economic performance, Foreign Direct Investments (FDI), increased use of smartphones, and a young population have been some of the driving factors for the growth of eCommerce so far. There are still only 289 million active eCommerce shoppers out of approximately 658 million active internet users in India. This indicates that more than half of active internet users are still not shopping online. It is a massive opportunity for brands and businesses, which will shape the future of eCommerce in India in the next 5-7 years.
The future of eCommerce in India
Based on the consistent growth of e-commerce in recent years and the macro-indicators, it is safe to assume that the channel will continue to accelerate in the coming years. India's eCommerce contribution to total retail is still 7% compared to 50% for markets like China. This indicates high headroom for growth in the future.
Experts believe that:
The Indian eCommerce market is expected to reach $170 billion by 2025 (Bain)
India's online shopper base is to reach nearly 500-600 million by 2030 and become the 2nd largest globally (IBEF)

As we slowly move towards these objectives, let's observe the factors that will be crucial in the growth of this sector and increasing importance to overall retail.
Factors that will affect eCommerce in India
Innovation in technology, an increase in customer purchasing power, and a new group of shoppers different from existing ones all are going to be key driving factors for the future of eCommerce in India. Let's see how.
Improved technology
eCommerce technologies are becoming more advanced and capable of streamlining processes and improving customer services. While mobile apps, chatbots, and eWallet have provided a seamless experience for customers, technologies like augmented reality and voice search promise to further enhance the user experience. For instance, virtual try-on is now allowing customers to try out different accessories in augmented reality, helping their purchase decision. Not only is it a great user experience, but this also partially addresses the problem of $760 billion worth of merchandise that is returned every year because of buyers not being able to find the right fit. Similarly, one-click checkout has eliminated the hassle of repeatedly entering basic information, saving customers valuable time. Investing in these technologies will help eCommerce businesses to continually elevate the shopping experience for customers.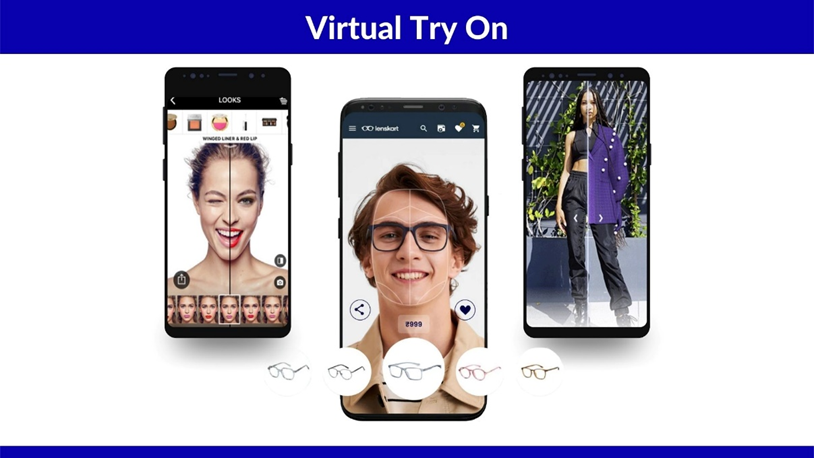 Smaller Indian cities will fuel online eCommerce shopping
The growth of eCommerce has given a boost to online businesses to target outside of tier-1 cities as well. In 2021, online shoppers from smaller cities contributed 36% of online spending. Moreover, 60% of first-time eCommerce shoppers in 2021 came from tier-3 or smaller cities. Future shoppers in India will be distinctly local, coming from tier-II and tier-III cities and they will expand eCommerce shopping in the future. Businesses have recognized the developing potential of tier-2 cities and they are concentrating on growing their presence there.
eCommerce marketing through social channels
Social media has become a part of our everyday lives, and it has changed the way we consume content. Brands are aware of this and already have a wide content presence across platforms. In the future, social will have a more active role to play in commerce as well.
Platforms like Facebook and Instagram have embedded shop features to support social-led commerce and community buying. Video or live commerce model is also believed to gain traction and become a major sales channel for the eCommerce industry. Over 600 million Indians will consume short-form videos by 2025 and live commerce is the key to combining digital content consumers with featured products. With more users spending time on social media, businesses must use this medium as not just a content platform, but a commerce one too.
Omnichannel approach
Shopper journeys are evolving. In 2018, the most important digital influence on shopping decisions in India was online search on engines like Google. By 2021, digital marketplaces, such as Amazon and Flipkart, had taken the lead. A customer's journey is now more complex than ever as they navigate through multiple channels before making a final purchase. They might start by looking for a product on channel A, compare prices with platform C, and ends up buying it in an offline store Z. It is thus important to exist on multiple channels to not miss out on important clientele. An omnichannel approach provides customers with a consistent experience regardless of the shopping platform.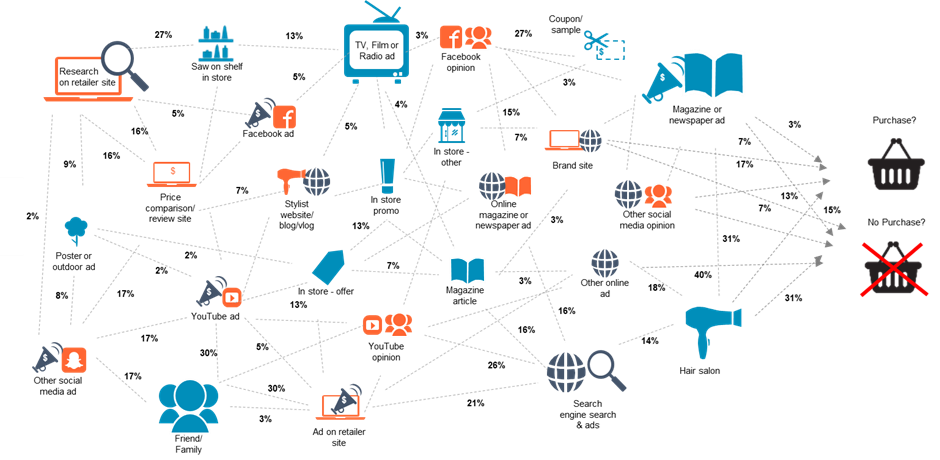 D2C brands building offline retail stores
Taking the omnichannel experience to the next level, digital-first brands are now setting up their physical stores to give an in-store experience to their customers. D2C brands that revolutionized the eCommerce landscape in India are now building brick-and-mortar businesses. Indian brands like Nykaa, Mamaearth, Lenskart, and Pepperfry have physical stores across multiple cities in India.
These stores are also not vanity exercises, and in many cases contribute significantly to business revenue. For example, over 60% of Sugar Cosmetics' sales now comes through offline channels! Going ahead, we can look forward to more D2C companies expanding their offline business in India. While eCommerce penetration continues to grow in the country, leveraging offline channels can help D2C brands reach new audiences.
Increase demand for specialised talent in the eCommerce industry
A recent report by TeamLease reveals that 98% of eCommerce companies in India are positive about hiring new talent in Q4 FY23. More than 100 companies are looking for candidates with digital skills for eCommerce roles. If you are a brand, you are likely in need of someone who understands digital marketing and eCommerce operations. If you are a job seeker, you must acquire digital skills to land a job in this growing sector.
The future is online. Jobs in digital marketing, growth marketing, operations, and analytics will require the workforce to be technically proficient. And this necessitates digitally skilled candidates who can drive the growth of eCommerce businesses in India.
SOURCE: IBEF, Statista, BCG, Bain
Conclusion
The above trend covers what the future will look like in the upcoming years. These growth trends will help drive a successful eCommerce business in the years ahead. The future of eCommerce is more promising than ever, and if you are prepared with new-age digital skills, you can also make a rewarding career in this.
Need help getting started with the eCommerce industry? Get free 1-1 counseling with Digiaccel Learning.