5 high-paying jobs in India that require digital skills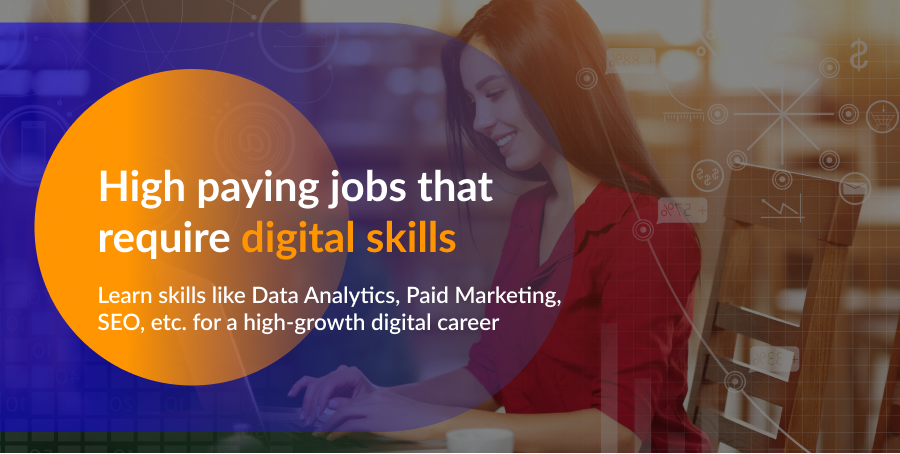 When it comes to finding the right career, many people fall in love with the idea of getting into a high-paying job. But the start of the journey can be very disappointing on that front. Moreover, a high salary is only one of the criteria for a desirable job along with a good working environment, and the opportunity to learn in-demand skills. Despite the wide options available to professionals in the first few years of starting a job, it remains difficult for professionals to find jobs that fulfill all their criteria - high salary, skill set requirement, and good working environment.
Jobs in digital marketing and eCommerce are one group that can fulfill all these criteria. To get into a career in digital marketing, one must acquire the right skills, irrespective of the graduation degree. Let's decode some of the job roles within digital marketing and eCommerce that are suitable for fresh graduates as well as professionals in the early stages (<4 years experience) of their career.
Growth Executive
The growth team in a company is responsible for growing the revenue to meet the business goals. Their responsibility is to find avenues to maximize revenue, measure performance outputs, and plan acquisition channels to grow the business. Because the role and team is directly linked to the revenue of a company, this role is omnipresent across the industry and is amongst the highest-paying job roles.
A growth executive must be savvy with data since businesses now work on huge sets of data to identify and act upon business development opportunities. This calls for a strong understanding of data analytics tools and proficiency with Excel, Data Analytics, Advertising tools, Salesforce (CRM), etc.
Entry-level salary for this profile can range from around 6 to 10 lacs per annum (LPA).
Digital Marketing Manager
Digital marketing has transformed the way brands connect with their audiences now. Unlike traditional marketing, brands can now have a 2-way conversation with their audience, do sharper data-based targeting, and test extensively on the efficacy of marketing campaigns.
To be a good marketer today, one needs to be skilled in new technology to leverage digital channels. A candidate must have working knowledge of SEO, SEM, email marketing, social media marketing, and ad tools like Google, Facebook and Amazon to become a successful digital marketer.
Moreover, this role also requires analytical and creative abilities to build digital campaigns and craft messaging that can communicate a brand's value proposition effectively to its target audiences to drive action.
The average salary for a digital marketing manager can start from 5 to 7 LPA with the potential to reach 15 to 20 LPA in 3 years.
Performance Marketing Executive
Performance marketing is a style of output-oriented marketing that falls under the digital marketing umbrella. The idea of performance marketing is to drive measurable output from ad campaigns. This output can range from video views to ad clicks, or even lower-funnel objectives like product purchase or lead generation.
Performance marketing campaigns can run across Google, Facebook, YouTube as well as eCommerce platforms like Amazon and Flipkart. The job of a performance marketer is to analyze campaigns objectively and make changes to deliver the best output from the marketing budget. For this, the digital skills required are platform expertise, data analytics, and media optimization.
The salary for a performance marketing Executive will range between 6 to 8 LPA with growth up to 20 LPA in 3 years.
eCommerce Category Executive
The eCommerce industry is growing in India with almost 200 million active online shoppers in the country, with a 7% contribution of eCommerce to retail in India. This is split across product categories like electronics, fashion, groceries, etc. eCommerce retailers have category teams responsible for growing the category business by enhancing the customer experience on their platforms through end-to-end actions like product availability, pricing, reviews, etc.
An eCommerce category executive therefore must understand the functioning of online retail platforms and the growth levers for the business. The role also involves significant stakeholder management with brand partners, and internal supply chain and marketing teams.
An entry-level eCommerce Category executive can earn around 6 to 9 LPA and grow to 18 to 24 LPA in 3 years.
Content Executive
As consumer touchpoints with brands have increased, there is added complexity in managing the content for a brand.
The content of any organization is at the forefront of putting the brand's message to the audience. And it is the role of content executives to first craft a content strategy across touchpoints and then lead execution to text, image, and video content. In the digital landscape, a content executive should have working knowledge in technical writing, designing software, analytical tools, etc.
Working as a content creator can fetch you a salary of around 4 to 8 LPA, with a growth of up to 12 to 15 LPA in 3 years.
Ending Note
Now you know that there are a host of jobs out there that offer a lucrative package for the right candidate. But these roles also call for those who have the right skills to bring significant value to any digital business.
Learn digital skills with Digiaccel Learning, and give your digital career the ideal launchpad.