Selecting the best digital marketing course for eCommerce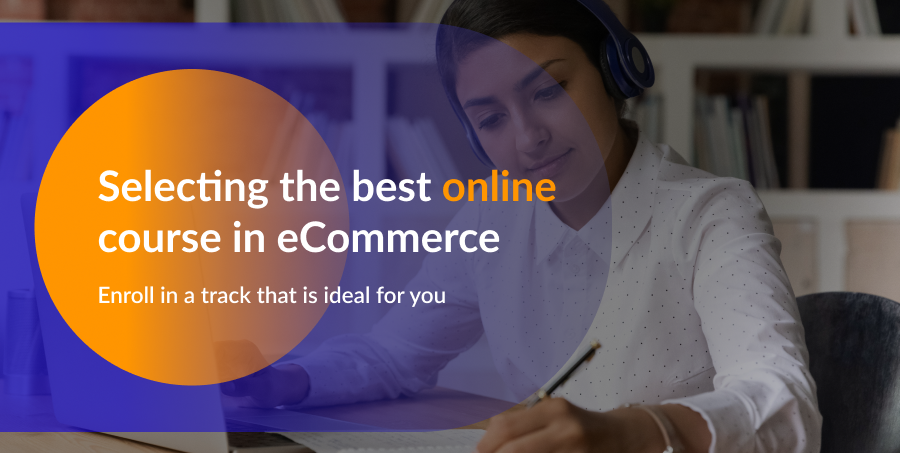 The world has gone digital, and that has opened up a host of exciting career opportunities for young graduates! Digital marketing jobs are an in-demand profile for ecommerce and digital companies, which are highly aspirational career destinations.
There are several job opportunities for digitally skilled candidates, but without the right skills, these jobs remain inaccessible to most graduates. Unfortunately, most of the traditional education in colleges alone is not enough to prepare you for these exciting jobs. Thankfully, there are a host of new-age learning solutions available that can help learners bridge that gap. The challenge, however, is choosing the right course from multiple options, one that is designed to get learners the outcome of a great digital marketing career in an eCommerce company.
Things to consider before enrolling in a digital marketing course in eCommerce
There are more than 20,000 online digital marketing courses available on top eLearning platforms. But with so many courses around, how can you select one that is right for you?
Here is a point-by-point guide to help you enroll in an eCommerce course, that will pave the way in this thriving industry.
Who will be conducting the sessions?
eCommerce is a very deep field, and it takes a lot to be able to grow your business online. You could easily find tutors or subject experts who would introduce you to the theoretical aspects of selling online, but it is extremely difficult to find industry professionals who will mentor or guide students through the application-based challenges and approaches in this domain.
It is important to enroll in coursework that is designed and delivered by industry-backed mentors. They have an understanding of what employers are looking for and can prepare you with the right skills required for highly demanding roles.
Digiaccel Learning has formed a team of educators who have previously built and scaled successful businesses in eCommerce. This complements a curriculum that emphasizes developing skills rather than clocking online videos.
Placement program: Can you get your dream job after the program?
When enrolling for a professional course, (like online commerce or digital marketing) every student wants to land a great job right after the completion of the course. Unsurprisingly, a report in Economic Times also found that landing a job was the top reason among learners, with 38% looking to get an internship or job opportunity. When evaluating a course, it is critical to analyse its placement program for some key features:
Past record: The historical placement record is a good starting point in trying to understand if a course if right for you. When studying the same, look out for the types of companies where learners have gotten placed, the pay packages and genuineness of placement reports (validating a few learners on Linkedin can help).
Diversity of opportunity: While a course may be "assuring" placement above a certain pay package, it may not be ideal for you. Look out for options with multiple companies, locations and role types to suit your needs.
Mentorship: It's not enough to get access to placement interviews, but you also need guidance and mentorship through the CV making and interview preparation process. That is a key feature in any online course that you're considering.
Schedule: Does it work for you?
Nearly 62% of people are willing to improve their skills through online courses while working an office job, according to a report in India Today. But this also means a conflict between your prior commitments and the program's schedule. A recurring challenge with online learning is finding the right match with the class timings and the schedule of the participants.
Can you cope with the pace of the program alongside your current job or college? For this, the best course of action is to look for a track that won't clash with your other commitments and allow you to upskill along with your job or studies.
Curriculum: Are you prepared with the in-demand skills?
As per the World Economic Forum, only 10% of graduates are employable and equipped with adequate skills and knowledge in India. This is because traditional teachings are not able to cover the new-age skills required by the job market. A curriculum focused on developing future skills will solve this employability crisis in India.
The curriculum should be industry aligned for the industry to value it. Companies now prefer practical skills over theoretical knowledge and candidates must be ready with hands-on skills right after their course completion. Additionally, new e-retail business models, changes in customers' shopping preferences, innovation in customer experiences, etc. are going to define the future of eCommerce in India. A curriculum should include an application-based approach to allow students to work on real-life business problems.
Digiaccel's eCommerce Specialist Track will help you build industry-valued skills in 5 months.
A Digital Marketing course in eCommerce is the right way to kick-start your career
Digital marketing jobs today require a candidate to be well-equipped with future skills to bring value to the organization. An online course can be a great way to accelerate your career, but you must find the right fit that gives you the best career outcome. Learn about the course mentors, and explore its curriculum, schedules, etc., to assess your fitment.
Start your learning with an online course that makes you job-ready, and do not get misled by free or short-term offerings. Enroll in a program that is specifically designed to upskill you with the single-minded goal of helping land your dream job.
Can't decide if Digiaccel specialist track is right for you? Get your questions answered by an industry expert. Book a free 1-1 counseling call.