How to get an off-campus placement in Amazon India?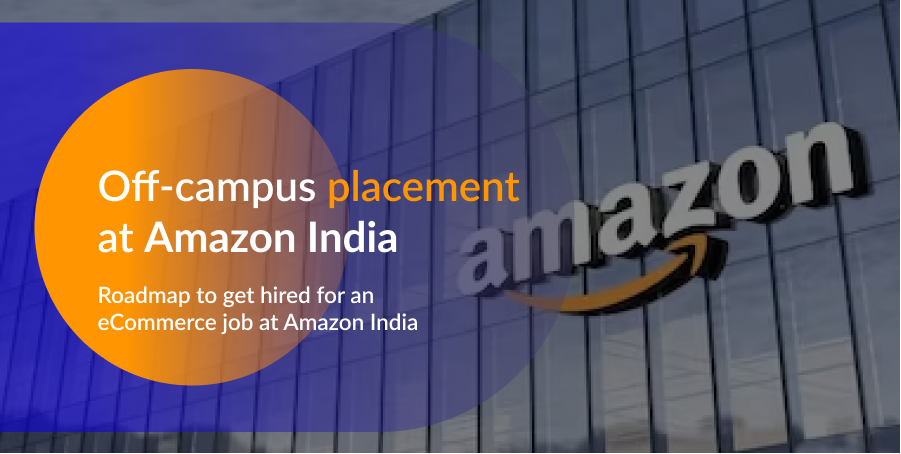 Who wouldn't want to work at Amazon? The eCommerce giant is one of the most valued companies (market cap over ~$ 1 trillion at present) in the world and is well-known among job seekers for offering high-paying jobs, a high-growth work environment, and a chance to work on some of the most commonly used products. For the last 2 years, Amazon has been crowned the best place to work in India by AmbitionBox.
There are ways to launch a career with Amazon India both if you're looking for off-campus placements or to move from another organization. Amazon India employs more than 1 lakh people and is always on the lookout for employees with the right skills. According to a TeamLease report, hiring intent in eCommerce is the highest among all industries and Amazon India also requires a large team skilled in eCommerce to support its huge operations in the country. The company is therefore also looking to recruit candidates through off-campus placements for the eCommerce business.
How to apply for an Amazon job?
To get an off-campus placement at Amazon, you need to be aware of Amazon's recruitment procedures. We have you covered and will go over each one separately.
Pro-tip: If you're in college, having industry-standard skills can set you apart in the placement season
Before applying for a job, you should assess your skill fitment for the roles. As you would imagine, jobs at a company like Amazon require candidates to be equipped with specific industry skills. There are some in-demand skills sought after by employers in the sector. You must be knowledgeable about eCommerce operations, analytics, negotiations, and marketing, among other things. Moreover, technical proficiency in data analytical tools, knowledge of advanced excel, Tableau, SQL language, and digital marketing skills (SEO, PPC, email marketing, etc.) will allow you to meet the technical requirement of the role.
You can learn these industry-valued skills by enrolling in digiaccel's eCommerce Specialist programs. A program designed by eCommerce industry leaders who will bring their set of expertise to help you accelerate your career.
Ways to apply to jobs at amazon:
1. Amazon's career page
Amazon has a dedicated career page where you can access all open job opportunities at the company across roles. Visit the amazon careers page here.
Use keywords that are related to the role you wish to apply for and search for openings on the dashboard. Fill in your application details including uploading your resume. You must build a strong resume that covers and highlights your strengths and key achievements. Once done, the company will call you for an interview if they find you qualified for the position.
What's great about this method is that you can look for a variety of job roles and responsibilities and apply directly with the company if you think you are the right fit for an Amazon job.
2. Networking
If you wish to have a speedy hiring process, you can also reach out to current employees at Amazon. An employee referral is the easiest way to get called for an Amazon interview. Networking with people working at Amazon will give a more transparent view of the work, its culture, and the hiring process.  Alternatively, you can also contact Human Resources. Give a brief description of your experience and qualifications for the role, and your passion for eCommerce and working at Amazon. You can engage and connect with Amazon employees on LinkedIn.
3. Recruitment drive
Apart from college placements, Amazon also conducts offline recruitment drives to hire candidates. Amazon received more than 4 lakh applications during Amazon India Career Day in 2021. You need to be aware of such events if you want to secure an off-campus placement at Amazon.
You can join digiclub, Digiaccel's student community where we keep you updated with the most recent job listings.
Recruitment process for an Amazon job
The recruitment process might differ from role to role, but there are some specific steps that Amazon follows to conduct its recruitment.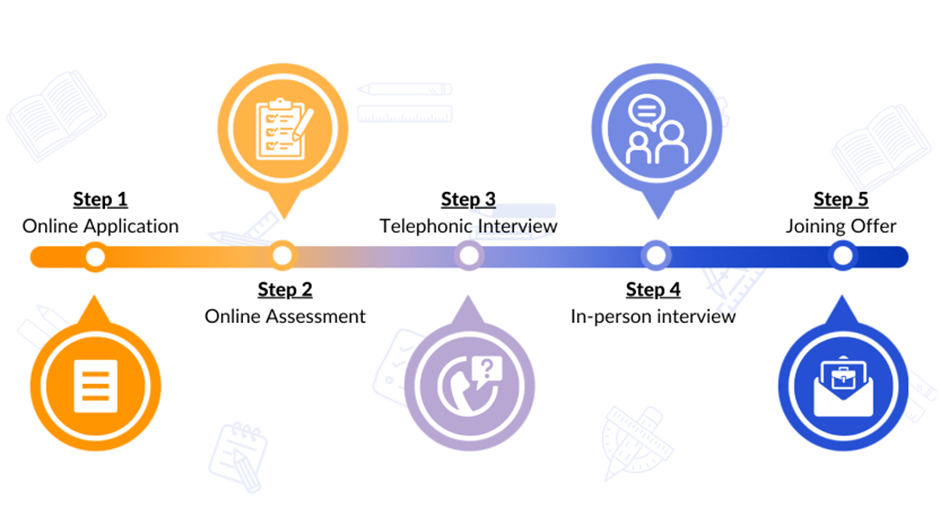 Candidate Application
The process starts with filling up the application (even for on-campus placement). Here the candidate has to provide his/her basic information and share their resume.
Assessment
This is followed by an assessment that will test the skills required for the role. This includes two types of tests, Work Style Assessment and Work Sample Simulation.
Work Style Assessment is primarily focused on Amazon's culture and leadership principles and will check what working style best describes you. Work Sample Assessment will ask you to work on tasks that are important for the position applying for. This includes solving a problem, interpreting data from a chart, researching from different sources, etc.
These assessments could take anywhere between 20 to 60 minutes depending on the role you are applying for.
Interviews
The telephonic interview will usually include behavioral questions to learn about the personality trait of the candidate. After that, the candidate will go through a series of interviews (which may be in-person or virtual) to demonstrate their expertise in the job they have applied. You should be prepared to answer questions that are technical, situational-based, and even related to your resume and profile.
Joining Offer
The recruitment team will evaluate your performance and will decide to give you their Amazon job offer.
Also Read: Top eCommerce job roles at Amazon India
How to ace your Amazon job interview?
You can expect interview questions that will ask about challenging situations you have faced and how you handled them. You can use the STAR (Situation, Task, Action, Result) approach to answer situation-based questions. Describe any challenging situation and how you dealt with it. What was your task and how did you take specific action to solve the problem and get good results?
Also, these questions will analyze if you effectively display a leadership style in line with Amazon's Leadership Principles.
Amazon Leadership Principles: Amazon has 14 leadership principles that guide its day-to-day operations. The organization uses these principles every day for making decisions, solving problems, and even hiring candidates. Any amazon aspirant should be well-versed with these principles and should be able to describe how they have applied them in their professional life.
The 14 leadership principles that Amazon uses every day:
Customer Obsession: Leaders work hard to earn the trust of the customers.
Ownership: Focus on the long-term goal. Work for the company as a whole, not just your own team.
Invent and Simplify: Leaders want innovation and invention from their teams. They always look for ways to make things easier.
Are Right, A Lot: Leaders make good decisions with their instincts.
Learn and Be Curious: Leaders never stop learning and always find ways to improve themselves.
Hire and Develop the Best: Leaders hire exceptional talent and develop more leaders.
Insist on the Highest Standard: Leaders always raise the bar and push their teams to deliver results of high quality.
Think Big: Leaders think differently to serve their customers better.
Bias for Action: Leaders value calculated risk-taking.
Frugality: Achieve more with fewer resources.
Earn Trust: Leaders listen carefully, speak their minds, and treat others with respect. They are also self-critical of themselves.
Dive Deep: Leaders can do anything. They work at all levels and keep an eye on the details.
Have Backbone; Disagree and Commit: Leaders respectfully challenge decisions when they don't agree with them. Leaders have conviction and are tenacious.
Deliver Results: Leaders focus on delivering inputs for their business and make sure they get them on time and with the right quality.
Each candidate is evaluated on these principles during the interview. Keep them in mind, and think about how you display these qualities during the interview. You can also find these Amazon leadership principles on their website.
End Note
If you were unable to secure a campus placement with Amazon, you now know how to get an off-campus placement.
Top eCommerce companies like Amazon have specific expectations from their employees. They are looking for applicants who are skilled and can add value to their organization. However, early professionals and recent graduates may find it difficult to showcase hands-on knowledge in industry-valued skills. That is why digiaccel has designed an industry-backed curriculum to help applicants in learning the new-age skills that recruiters need. Upskill yourself with the eCommerce Specialist program in 20 weeks and work for your dream company.