6 promising D2C brands in India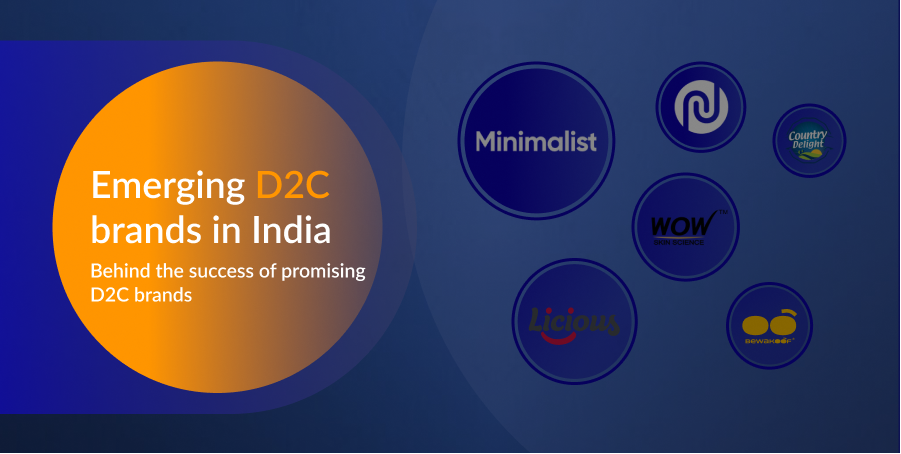 D2C or Direct-to-consumer is a novel business model wherein brands sell their products directly to customers instead of going through distributors or wholesalers. This model is becoming more and more popular in India as more brands look toward eCommerce to reach their consumers.
Brands can now connect directly with customers through their own platforms, and the D2C model has enabled them to capture shoppers by offering innovative and high-quality products with the convenience of home delivery. Indian shoppers who prioritize convenience and affordability have contributed to the growth of many D2C brands in recent years.
Successful brands like boAt and Mamaearth have used the D2C model to their advantage. Now their founders feature on Shark Tank India and help other small businesses grow by using the D2C model.
Watch this video for a conceptual breakdown of the D2C model:
In this article, we will look at 6 of the most promising D2C brands in India.
1. Licious
Licious is a popular D2C brand that sells fresh meat and seafood. It was founded in 2015 by Abhay Hanjura and Vivek Gupta. And in 2021, it became the first D2C unicorn ($1 billion+ valuation) in India. Licious started as an online website to sell and deliver meat and seafood. The problem identified by the founders of Licious was that the buying and selling of meat in India in offline stores is generally not a pleasant, hygienic experience. This inspired them to set up Licious, a brand that would make shopping for meat and seafood products easy and clean for customers.
The online platform started delivering meat to people's homes in Bengaluru. Slowly but steadily, they built a loyal customer base who cared about the quality and cleanliness of meat products. As the number of shoppers grew, Licious decided to start doing business in other cities in India. Parallelly, they also added to their product repertoire with more meat cuts and even ready-to-cook mixes to increase the revenue per user. Today, Licious is one of the most popular D2C brands in India, and it has a presence in cities all over the country and continues to inspire consumers' trust in meat delivery which other eCommerce grocery platforms struggle with.
2. WOW Skin Science
WOW Skin Science is a D2C brand that also leverages eCommerce platforms and physical stores to sell its products to customers. Manish Chowdhary and his brother Karan Chowdhary founded the company in 2013 with the goal of manufacturing beauty and wellness products that not only deliver great user experience but are also free of potentially hazardous chemicals and sulfates. The D2C brand sells natural and organic products for skincare, haircare, and overall wellness. Their first hero product was the Apple Cider Vinegar Shampoo which became a bestseller on Amazon.
WOW has been at the forefront of innovation in route-to-market for consumers. They were among the first brands to establish a meaningful export business, partnering with Amazon to get as high as 20% of their sales from global markets, including the USA, where their shampoo and conditioner became consumer favorites. In India, too, the brand has become an early user of technology to provide a better shopping experience through WhatsApp. WOW has listed its top-selling products on WhatsApp for shoppers to shop directly from the messaging platform. Today, WOW Skin Science is one of the most popular personal care and well-being brands among a shopper base that values less harmful and affordable skincare products.
3. Bewakoof
Bewakoof is a popular clothing and fashion brand in India. The company was founded in 2012 by Prabhkiran Singh and Siddharth Munot. The founders of Bewakoof wanted to start a brand that brings affordable and stylish clothing to young people. They wanted to make a brand that not only sold trendy clothes at a good price but also had a fun, quirky vibe that would appeal to their target group.
Bewakoof started as an online D2C brand that sold t-shirts with funny and interesting designs. At that time, Bewakoof stood out in the market owing to its focus on making designs that were unique and different. That has helped Bewakoof become one of the most popular D2C fashion brands in India. The brand now sells a wide range of clothes and accessories for both men and women, including t-shirts, hoodies, joggers, and phone covers. It has also started offering services that add value, like fast shipping and easy returns, which have helped it build a strong customer base. The company clocked a revenue of INR 250 crore last year, and now is in talks to be acquired by the fashion D2C arm of Aditya Birla Group, TMRW.
4. Country Delight
Just like Licious, Country Delight is another brand that sells edible products including perishable goods through a D2C channel. Country Delight, founded by Chakradhar Gade and Nitin Kaushal in 2015, is a D2C brand that sells dairy products that are fresh, organic, and unadulterated.
The brand wants to solve the problems faced by the traditional milk supply chains in India like adulteration with milk and unorganized supply chains. That's why they had set up a system to check the quality of their milk and dairy products and ensure that the customers get the best products. Additionally, the business also invested in technology and automation to build a supply chain that ensures reliable last-mile delivery by 7 AM to the user.
Today, Country Delight has become a trusted name for getting fresh dairy products. Along with the wide range of dairy products, such as milk, curd, paneer, and ghee, the brand has also started delivery services for fresh groceries. In the last three years, Country Delight has grown 10 times in scale and is currently at over INR 900 crore ARR (Source: Business World).
5. Noise
In 2014, Gaurav Khatri and Amit Khatri founded Noise to sell mobile phone covers and accessories. But doing justice to their brand name, they forayed into wireless headphones and smartwatches. Today, Noise is the number 1 wearable watch brand in India.
The brand was always in the business of selling mobile accessories. They started by selling mobile back covers. But when the demand and average selling price (ASP) for mobile covers started to go down, they switched to other segments of mobile accessories. The pivotal point for noise was when they introduced smartwatches and wireless earbuds in 2018. Today Noise is the leading wearable brand in India and also ranks among the top 5 smartwatches vendors globally.
As Noise grew in popularity, it added more audio and lifestyle products to its portfolio. The brand's collection has expanded to include, earbuds, fitness bands, and action cameras. Additionally, they have also launched a NoiseFit app to engage its customers and build a strong community.
6. Minimalist
Minimalist is one of the more recent brands to enter the Indian D2C ecosystem. Founded in 2020, the skincare brand is among the rare success stories that started during the COVID digital consumption boom when digital advertising costs were already high. The company founded by Rahul Yadav and Mohit Yadav sells skincare products that provide simple and efficient solutions. Many consumers claim that Minimalist is inspired from The Ordinary, a very popular global skincare brand that has now been launched on Nykaa.
Most skin care products on the market brag about having natural ingredients, which casts a negative light on those with chemical compositions. Minimalist does not sell chemical-free products and it claims that the use of chemicals is inevitable in skincare products. And the success of Minimalist comes from its emphasis on simplicity and transparency. Its product line comes with a comprehensive list of ingredients used so that the consumer knows what they are applying to their skin.
Apart from its own website, the brand also sells through eCommerce platforms like Amazon, Nykaa, and Myntra. Minimalist was able to secure $15 million (~INR 110 crores) in funding in 2021 and is also eying to expand its business operations in the global market.
Ending Note
D2C as a channel has allowed businesses to have more flexibility with their brands. They have more control over their marketing efforts and they can build strong relationships with their customers by directly selling to them. Many brands have leveraged this model to scale their business, and the above-mentioned brands are just a few examples of those.
As eCommerce and digital business models become more popular, the D2C model is likely to become even more common in the business world.