Inside the D2C brands built by judges from Shark Tank India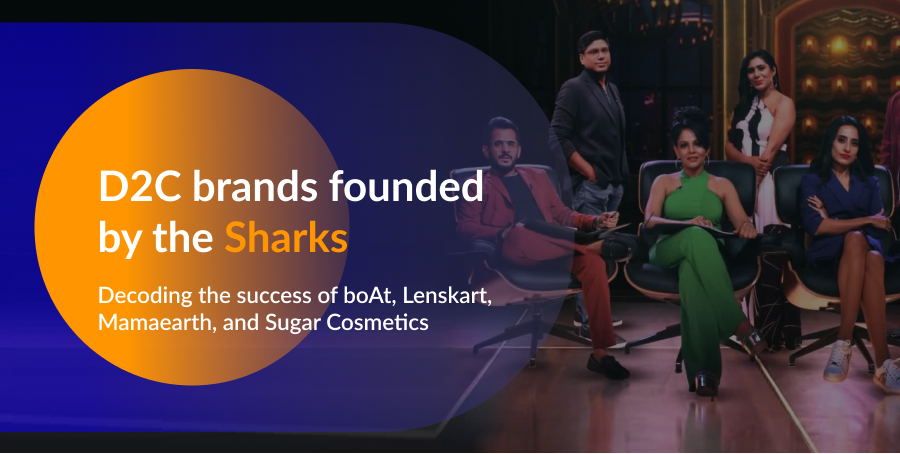 Shark Tank India has become very popular among viewers since it first aired in Dec 2021. The reality television show puts forth a bunch of contestants on a stage where they pitch their business ideas to the judges (sharks) of Shark Tank and ask them for investment. The show was a surprise hit (4.5 million viewership) and it changed the outlook towards entrepreneurship and businesses in India.
The show was well-praised for presenting something new and fresh to Indian audiences and inspiring budding entrepreneurs and business enthusiasts. Viewers could connect with the participants as they explain their business model and valuation, and their deals felt like a win for us. One common occurrence on Shark Tank India saw many participants operating on D2C (direct-to-consumers) business model.
Owing to the initial stage of their brands, consumer start-ups prefer to sell directly to customers instead of going through retailers or other middlemen. D2C channel is getting immensely popular these days, and surprisingly enough, even the judges from Shark Tank India are D2C fanatics.
In fact, most sharks themselves started their business with a D2C model. Before adopting other channels, sharks followed a digital-first approach to expand their business. Today we will look inside the journey of D2C brands built by Shark Tank India judges.
What is D2C?
Direct-to-consumer (D2C) is a model where a business sells its products directly to customers without the traditional distribution network like wholesalers, third-party retailers, or any other middlemen.
There are more than 800 D2C brands operating in India and their combined revenue is expected to reach $60 billion by 2027. Growth in the Indian direct-to-consumer (D2C) has seen the birth of some very popular household brands including the one established by sharks.
boAt Lifestyle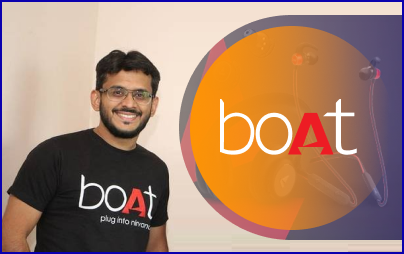 boAt is a consumer electronics brand that was founded in 2016 by Aman Gupta and Sameer Mehta. The Delhi-based company sells a wide range of products including headphones, earphones, speakers, smartwatches, etc. The company which is nearly 6 years old is a leader in India's wearables market, ahead of Chinese (Xiaomi, RealMe) and American (Apple, JBL) brands. The brand is also among the top five wearables companies in the world. boAt's success comes from affordable products and its positioning itself as a lifestyle brand.
Shark Aman Gupta, who is also the CMO of boAt Lifestyle, co-founded the company with his friend Sameer Mehta. boAt started as a company that made electronic cables, before evolving into a D2C business that sells audio products. Aman used to work at JBL as a Sales Head and was keenly interested in the audio business. Both founders realized that there was a gap in the market with no brand selling quality audio products at an affordable price. That is why boAt priced its products lower than branded incumbents like JBL while making sure they were durable and more importantly, "fashionable."
boAt started selling products online since it was the easiest way to handle the distribution of products for a fledgling brand. Later, it grew its distribution network by putting its products on eCommerce platforms (Amazon and Flipkart) and has now started setting up physical stores in small cities and rural areas to get its products into the Indian rural market.
The company cleverly tapped an audience group that wants high-end gadgets but doesn't want to spend too much. The company recorded a revenue of nearly INR 2800 crores for FY 22, a 118% jump from the previous year.
Over the years, it has evolved beyond being just an audio brand. Even though there is a lot of competition from other brands in the same category, boAt leads India's wearable market with a 32% share (Q3 2022).
Sugar Cosmetics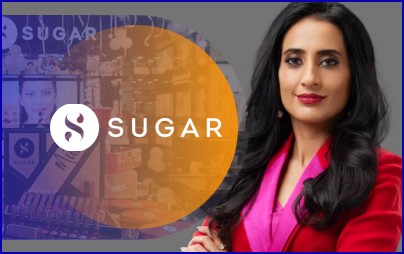 Vineeta Singh and Kaushik Mukherjee started Sugar Cosmetics in 2012. Their goal? To build a makeup brand that was fun, colorful, and, most importantly, not too expensive. Today, Sugar Cosmetics is one of the leading beauty brands in India.
Sugar cosmetics is known for high-end makeup products that are reasonably priced and have innovative formats. The company sells a wide range of products, from lipstick and foundation to eyeshadow and mascara. At first, the company used a direct-to-consumer (D2C) model to sell products online and in a few local makeup stores. Later, they were able to grow the business to eCommerce retailers and offline channels. They now have 195 stores in India and also sell on eCommerce sites like Amazon, Nykaa, and Myntra. In fact, more than 50% of the business for Sugar cosmetics now comes through offline channels!
The brand has been praised for its innovation, and how they don't harm any animals with its production. Sugar also enjoys widespread celebrity support; Ranveer Singh is an investor and ambassador for Sugar. One of the reasons why Sugar was able to thrive against big brands like L'Oreal and Lakme was its social media popularity.
The brand has around 2.5 million Instagram followers, which is amongst the highest for any beauty brand in the country. The company unveils its new products and collections on social media while also giving away freebies and discounts. Working with influencers has also been a key pillar of its social media growth.
Sugar Cosmetics went from a small operation to a full-fledged business in just one year. They started with only six products, but now they have more than 150 and serve more than 10 million people. In FY 22, the company made a revenue of INR 222 crore.
Lenskart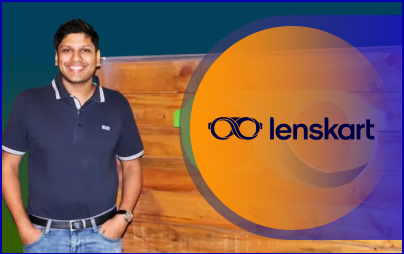 Before founding Lenskart, Peyush Bansal, Amit Chaudhary, Neha Bansal, and Sumeet Kapahi launched Flyrr.com in the US, a similar business that sells contact lenses online. When they realized that no business has tapped into this sector in the Indian market, they started Lenskart in 2010.
Since then, Lenskart has revolutionalized the eyewear business in India. It was a challenge to sell eyewear glasses and lenses through an eCommerce platform, a product that most users would prefer to buy from offline stores. But shark Peyush Bansal managed to turn Lenskart into a profitable business and later, achieve unicorn status with his D2C brand.
The company started as a D2C brand for contact lenses, before expanding its product line by adding prescription glasses and sunglasses. Today Lenskart offers more than 5,000 styles of frames and 45 types of high-quality lenses. In a country where people are skeptical of buying glasses online, Lenskart introduced cutting-edge technology so that consumers can try on glasses virtually.
Today, Lenskart operates in an omnichannel approach, offering services both online and in-store. It has more than 550 stores in 30 + Indian cities. It also sells glasses and offers eye check-up services through its online channels. In 2019, Lenskart become a unicorn ($1 billion valuation) when it raised funds from Softbank.
Mamaearth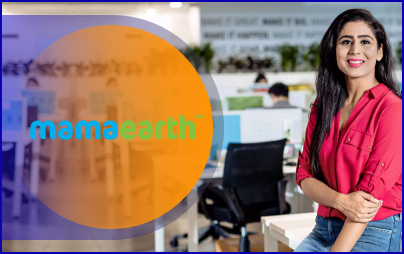 Ghazal Alagh, who appeared as a shark in the show, is the co-founder of Honasa Consumer Private Limited, owner of the brand Mamaearth. She co-founded the company in 2016 along with her husband Varun Alagh. Mamaearth has established itself as a promising D2C brand in the cosmetics industry by selling skincare and healthcare products that are natural and free of chemicals.
Mamaearth initially started selling baby care products, which were made out of non-toxic ingredients and were safe for children (primarily babies). Over the years, the brand has added more than 80 natural and non-toxic products to its portfolio. Honasa has also launched multiple other brands alongside Mamaearth like Ayuga, Aqualogica, The Derma Co.
Mamaearth has widespread popularity thanks to the superior safety of its products and it quickly became a trusted brand among Indian consumers. It is the first Asian brand to be MadeSafe-certified, meaning that it meets all applicable safety criteria. The company also turned unicorn in 2022 (at a valuation of $1.2 billion), after receiving funding from Sequoia. The company is now aiming to go public and plans to use the funds from the IPO for advertising and to raise awareness of its brand.
End Note
Just like many participants in the show, the sharks also started their journey with D2C. As seasoned experts and investors on the show, they bring their expertise to aspiring contestants along with investment cheques. One thing we have learned from Shark Tank India is how important it is to understand the D2C and eCommerce markets to grow your company as you expand.