Digital marketing skills you need to accelerate your career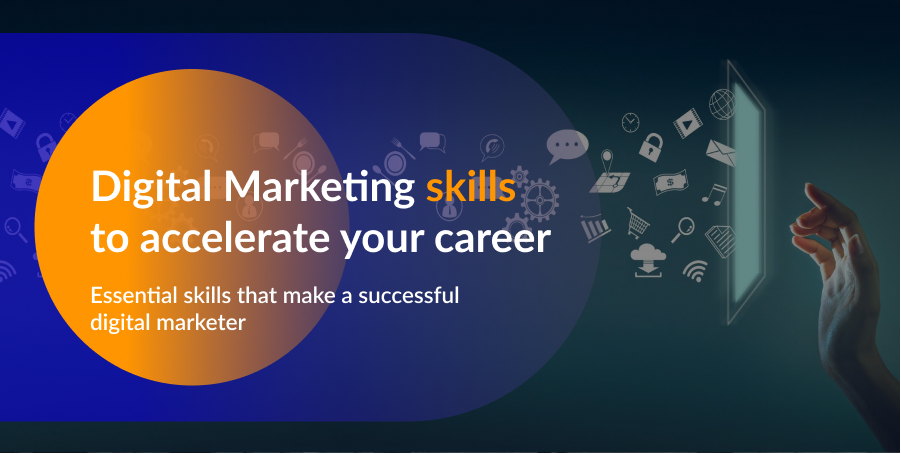 A career in digital marketing or eCommerce has emerged as one of the most exciting prospects in recent years. It is an evolving industry that has experienced tremendous growth as more and more companies venture into the digital space. As a result, career opportunities in this sector can be very rewarding.
But the industry is evolving rapidly and job seekers must keep developing skill sets to adapt to new job requirements. But there are a few basic, yet essential skills that you should pick up right away if you plan to secure a digital marketing job. This blog covers the few essential skills you must learn to give yourself a competitive advantage and land your first digital marketing job.
Essential skills that make a successful digital marketer
The skills that we are about to discuss might appear quite basic but require constant development to master and generate results. Emphasize honing these for a successful digital marketing career.
1. Search Engine Optimization (SEO) and Search Engine Marketing (SEM)
When was the last time you went all the way to the 2nd page of a google search to find what you need? Or ordered something after viewing the 3rd page of Amazon listing? This is very unlikely because you generally find what you are looking for at the top of the search results. This simply means that ranking lower on search results costs businesses potential customers and it is, therefore, critical to be higher up in the search ranking. There are 2 techniques that help brands leverage search.
Search Engine Optimisation (SEO) is the practice that helps your web page or product page rank organically higher. One of the ways this is done is by optimizing your website or product page content by using more relevant keywords. But to avoid misuse of excessive keywords, search engines also inspect the quality of content. Google uses the E-A-T principle to determine the search ranking of web pages and domains.
Expertise: If the person who makes the content has the right knowledge and experience on the topics they write about.
Authoritativeness: This goes beyond the content creator and checks to see if the website or the content is a go-to source for a topic.
Trust: If the information on the pages is correct, safe, and trustworthy.
However, in a competitive environment, organic SEO may not be enough to rank high on search and brands need to use advertising budgets to sponsor their webpage/product listings.
Search Engine Marketing (SEM) is the practice of inorganically boosting search listings through advertising spending. Most large search ad platforms like Google and Amazon work on an auction-based system where advertisers bid the maximum amount they are willing to pay for a click on their ad. The ad rank is typically determined through a combination of the advertisers' bid and the relevance of the listing to the searched keyword, as determined by a black-box algorithm.
SEO and SEM are must-dos for any business with a digital presence and having these skills will help stand out when applying for digital marketing jobs.
2. Data Analytics
What differentiates digital marketing from traditional practices is the feasibility of taking data-driven decisions. The availability of data makes it cost-efficient, provided the marketer is well-trained to draw the right insights and actions from large sets of data. Therefore, future marketers must be efficient with data analytics to make sense of these sets of user data, spanning user browsing behavior, shopping behavior, demographic profile, etc.
Data analysis can identify key business opportunities and working knowledge of tools such as Google Analytics and Ads Managers will help in this process. The ability to study data can enable operators to make data-driven decisions to drive business growth and efficiency.
3. Performance Marketing
Advertising has always been done with the intention of influencing consumer behavior but traditionally the measurement of consumer actions has not been rich. In the digital ecosystem, however, every user action like viewing an ad, clicking on it, or purchasing the product on the website can be measured. Performance Marketing is a style of marketing deployment that focuses on measurable user actions and taking action that drives efficiency to get the most desired actions with the marketing budgets. Learning the intricacies of performance marketing on leading ad platforms like Amazon, Google, and Meta is critical for new-age digital marketers. Specifically, the proportion of ad spends going behind retail platforms like Amazon as opposed to content platforms like YouTube or Instagram is going up.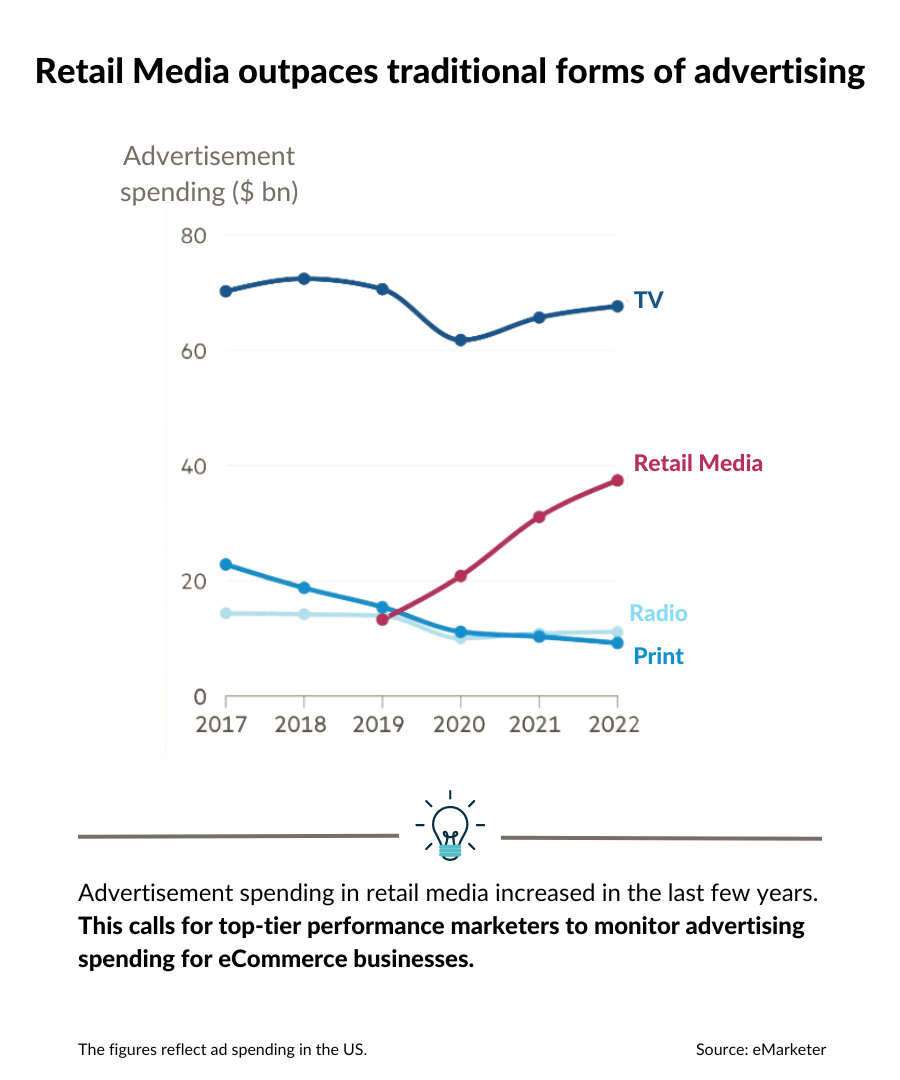 4. Content Creation
Consumers today are bombarded with a variety of content. With so much content at their disposal and limited attention spans, it has become increasingly difficult for brands to get consumers to retain their messaging.
Content creation has therefore emerged as a very valuable skill for all brands that can help them gain a competitive advantage. This involves content in all forms: including website articles to social media posts, from written to visual graphics. Mastering this skill helps brands not only get in front of more consumers but also improve retention of the core messaging.
5. Social Media Marketing
Who doesn't use social media? Brands, marketers, customers, and even future shoppers. 97 percent of all Fortune 500 enterprises use at least one social media platform to promote their initiatives. Social media apps have among the highest consumer attention and it's imperative for brands to capitalize on that attention.
There is much more to social media than just posting content. It requires a good understanding of choosing the ideal platform, creating engaging content, and understanding the algorithm to generate business in the form of leads or direct orders. Each platform has its unique features and user base, and a successful digital marketer must be aware of the latest trends and strategies to make the most of these platforms.

Conclusion
The consumer today is more connected than ever before and that presents its own sets of opportunities and challenges for marketers. Digital marketing jobs today require new-age marketers to stand out with the right skills and leverage the digital ecosystem to win with consumers. Equally, marketers who don't equip themselves with the required skillsets stand the risk of losing an edge - for their career as well as the brands they work on.
Enroll in an industry-backed course on eCommerce Specialisation and learn relevant digital skills to accelerate your career.